The 'greed' of Grell and bisexuality in anime
Grell Sutcliff, the supposed Burnett butler who unveils his true sexual identity in a brilliant red rush of flamboyance, would probably be considered gay by most. That is, if not for his blood-soaked love affair with Ciel Phantomhive's dear aunt, Madam Red. Never mind that Black Butler is set in the Victorian era, where the "gross indecency" of homosexuality was barely whispered of, and bisexuality was almost ignored entirely; psychiatrist Richard Freiherr von Krafft-Ebing is considered the first to have recorded the term as an "attraction to both genders" in his 1986 work Psychopathia Sexualis. Grell's carnal freedom and candour defy the presiding opinion of bisexuals that still exists today, even in queer communities. He is scandal made flesh and relishes in this fact, prioritising his pleasure over the judgements of others, striking out against an opposed society in a way that's timelessly empowering. Even preconceptions of 'butch' and 'femme' are cast off, his "custom death scythe" chainsaw colour coordinated with figure-grazing garb and his statement scarlet coat, forever fixed in a flirtatious off-the-shoulder pose.
It's telling that there's no gender-appropriate slurs for such a man, certainly compared to the semantics lambasted against women – slut, whore, slapper et cetera. Yet even in defiance of the social more that would brand him a strumpet, there would still be pitfalls for him to navigate today. Popular opinion derides bisexuals as either greedy or being unable to pick a side and settle on a partner. Grell, in polite terms, would come across in the public eye as "having trouble committing". Without a doubt, his most ardent lust is held for the Phantomive household's demon butler Sebastian, but whenever another ferocious beauty of any gender comes along, he's equally forward in expressing his attraction.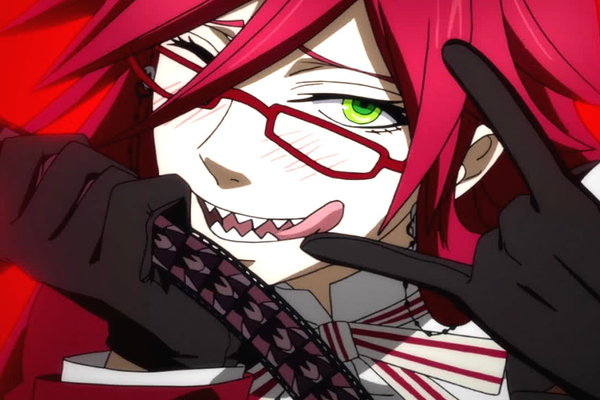 Assuming Grell would identify as 'bi' in the real, modern world, being the shadow-social butterfly he is, he would be met with distrust from the LGBTQ+ and straight societies whatever he chose. Even if he got tired of being told he was 'just fucking people around', or found someone he adored and wanted to commit to, he would be 'gay after all' if he wound up with a man or 'fake after all' if he found love with a woman. But in the context of Black Butler, the joy of its eroticism is that he's free to be attracted to whomever he chooses. Despite the odd withering look from the uninitiated, he's never condemned for his sexuality. And whenever he takes the stage, author Yana Toboso lets him perform front and centre, unrestrained.
Continues on next page…