Update: Tenchi Muyo! 4th OVA series updates main cast and visuals
The latest details on the official website for Tenchi Muyo!'s fourth OVA Ryo-Ohki give us new main and character visuals for the series, as well as an opening theme and additional release info. Following its fall release announcement, volume 1 of the OVA is now set to retail  in Japan on November 30th, with the single of Serena Kozuki's ending theme 'Shake the DiCE' already on sale since June 28th. Kozuki also performs the opening song, 'Tenchi Muyo!'.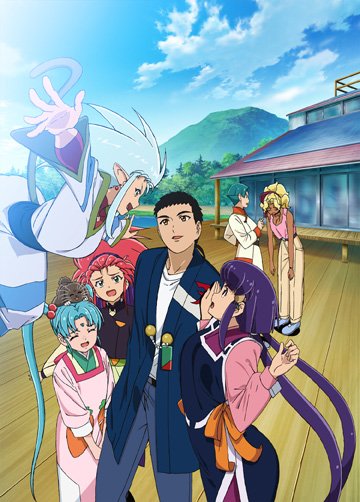 The character designs once again share the mostly returning cast, with Masami Kikuchi as Tenchi Masaki, Ai Orisaka as Ryoko, and Haruhi Nanao as Aeka. Nanao first played Aeka in the 2014 Ai: Tenchi Muyo! series. But original Mihoshi seiyu, Yuko Mizutani, passed away in May after the series' initial announcement, and she's replaced by Michie Tomizawa, known for voicing Sailor Moon's Sailor Mars. Takeshi Aono, voice of both Katsuhito Masaki and Nobuyuki Masaki, passed away in 2012. His roles are respectively taken up instead by Dragon Ball Super's Galactic King, Ken Uo, and Katsuyuki Konishi, known as Saint Seiya's Ikki Phoenix.
The 23 years strong sci-fi harem comedy previously had its staff, ending theme and fall launch unveiled for its fourth OVA in May. The anime's original creator Kajishima is credited as chief director of the series, and Magi and Sword Art Online II episode director Hidetoshi Takahashi directs at studio AIC. Kajishima's regular collaborator Hideki Shirane is writing and supervising scripts, while Takeshi Oda of Oneechan ga Kita adapts Kajishima's original character designs, and Yasunori Honda acts as sound director.
FUNimation has released the original Tenchi Muyo! and its following two seasons and OAV episodes in the US, and they describe the story:
In the beginning, there was Tenchi. Back when the only cure for an anime fix was a trip to the mall to load up on VHS tapes. Back when cable television first introduced this amazing new genre to American fans. The times may have changed since those good old days, but we're thrilled to be bringing Tenchi back! A true classic never goes out of style, and Tenchi is the original anime harem comedy that started it all.
Everyone's favorite luckless hero is back for more intergalactic hijinks in Tenchi Universe, an alternate universe retelling of the original Tenchi canon. Seventeen-year –old Tenchi Masaki is a regular guy whose life takes a turn for the outrageous when Ryoko the stunning space pirate crashes at his grandfather's shrine. In the bat of an eye, Tenchi finds himself surrounded by a bevy of bodacious intergalactic beauties who'll do everything they can to make him late for class!